Big triumph of Amputee Football EURO in Krakow!
"It was a sports, marketing and media success"

Thousands of people at the stadiums, hundreds of thousands watching in TV and millions following official social media content. What is more, information in all the biggest Polish media, broadcasts of matches on television from three countries, and even material on BBC World. Additionally, two full-length documentaries and a published book. The echoes of the European Amputee Football Championship Krakow 2021, a unique event that turned out to be not only a sports success, but also a promotional one, do not stop. The organizers and players hope that thanks to this, the discipline will rise to an even higher level.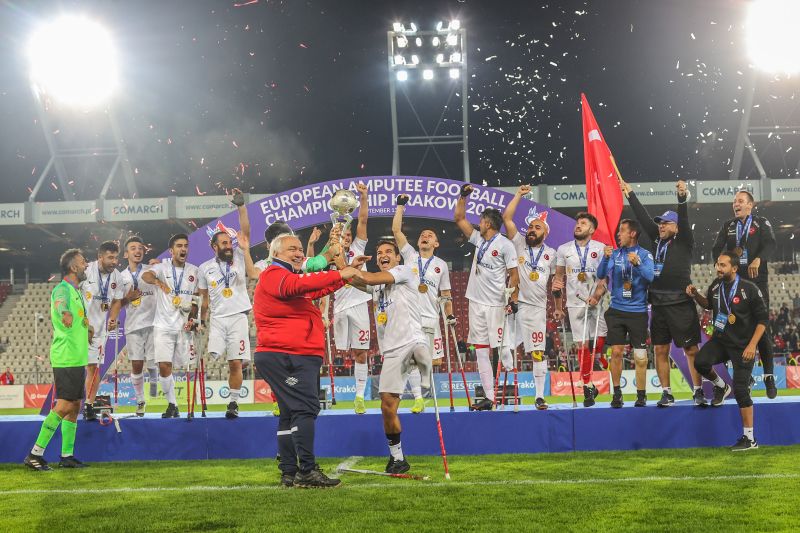 As expected, the title of European Champions was defended by Turkey, who won against Spain 6:0. Poland – for the second time in a row – took the third place, gaining the bronze medal. "We really wanted that these Championship would be an important step to develop our discipline and spread widely the message about the idea of the amputee football. And I believe we did it! I don't want exaggerate, but it's really hard to find someone who hasn't helped us with our success" – says EAFF President, Mateusz Widłak.
The great success of the European Amputee Football Championship Krakow 2021 is just the beginning of the impact of the popularity of this sport.  "We have been watching historical moments. Together with the players, coaches, employees and the whole environment, we count on and will work to transform the success of this championship into further, dynamic development of the discipline. I would like to pass big words of appreciation for the players of all teams, thanks to whom and for whom we develop the amputee football idea. Their characters, will of fight and great sports results are something that cannot be ignored." – says President Widłak.
Indeed, European Amputee Football Championship turned to be a very attractive event for supporters. It is enough just to look at the attendance at particular games. Matches of Polish National Team at Cracovia Stadium were watched by several thousand fans and the Pradniczanka Stadium was filled to the last seat each time when Poles played. There were also a lot of supporters at the games of other teams at the facilities of Garbarnia, including foreign fans from Turkey, Belgium and Germany, traveling to Krakow to support their national teams. A great job to promote Amputee Football EURO did Krakow – the Host City of the Championship.
"It was a celebration of unique athletes and magnificent fans. They have worked the most for the success of Amputee Fooball EURO in Krakow! We did not expect that so many fans at stadiums in Krakow and those who were watching games in TV and via Internet will fall in love with amputee football, which is still so young discipline. I can admit that this is a huge inspiration for our city to make next steps together with amputee football environment. And the final rate of the president of the Amputee Football World Federation, who gave Krakow "five stars" for the organizing of the event motivates us to organize further competitions. Maybe it will be the final of the Champions League" – sums up Janusz Kozioł, plenipotentiary of the Mayor of the City of Krakow.
Go to: www.ampeuro.eu to see results and photo galleries of this great event.