EAFF Champions League 2021
EAFF Amputee Football Champions League 2021 was a fantastic tournament.
Five clubs from five countries, despite the difficult international situation, met in the Turkish city of Gaziantep on May 21-23 to fight for the title of the best amputee football club team in Europe.
After the fantastic first edition of the EAFF Champions League, which was organized in Georgia in 2019, it was difficult to imagine a better event.
Great organization and the hospitality of the Turkish federation, the city of Gaziantep, the club, fans and the Şahinbey district made the tournament an unforgettable experience for all participants.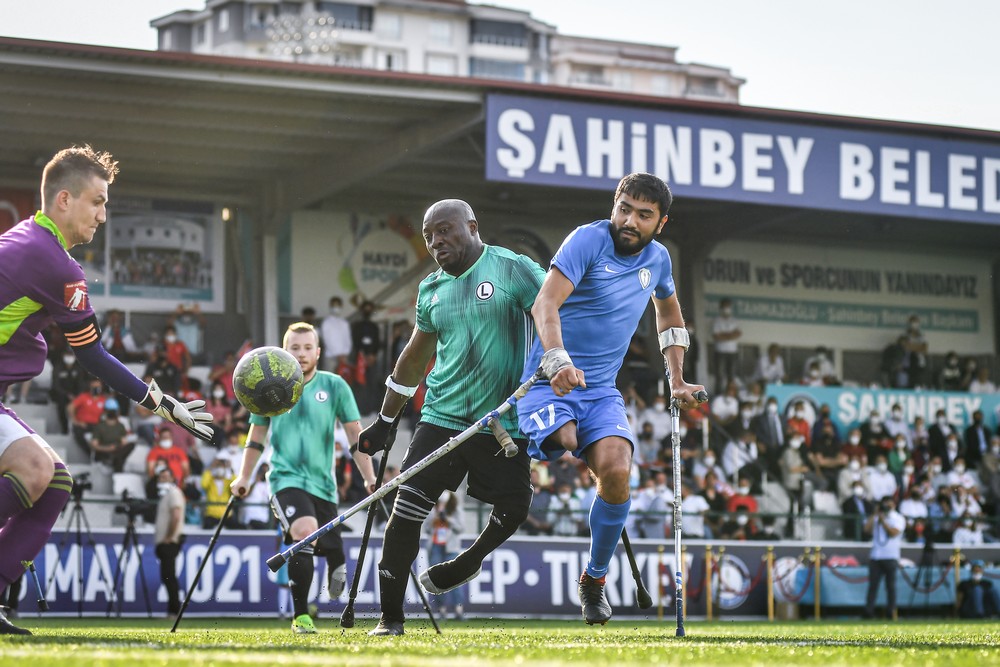 All teams showed an amazing fight and great sports level. The final match of the tournament, played between Şahinbey and Legia Warsaw with full stands, belonged to one of the best amps in history and reminded of the legendary EURO 2017 final in Istanbul with 40,000 fans at the stadium.
Congratulations to all teams and people involved in the organization.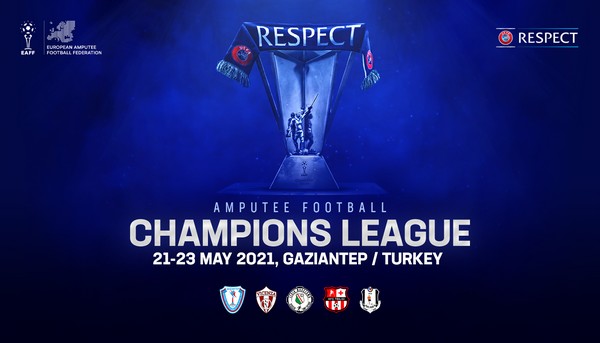 Final classification of the Amputee Football Champions League 2021:
Şahinbey Belediye, TURKEY
Legia Warszawa, POLAND
Vicenza Calcio, ITALY
Karabakh F.K., AZERBAIJAN
AFC Tbilisi, GEORGIA
TOP GOALSCORERS – Rahmi / Fatih (Şahinbey)
BEST PLAYER – Lastowski (Legia)
BEST GOALKEEPER – Hemidov (Karabakh )
FAIR PLAY – Argento (Vicenza)
FRIDAY MAY 21
ŞAHINBEY B. S. V LEGIA WARSAW 4:1
VICENZA CALCIO V AFC TBILISI 3:1
KARABAKH F.K. V LEGIA WARSAW 0:5
ŞAHINBEY B. S. V VICENZA CALCIO 7:0
AFC TBILISI V KARABAKH F.K. 0:1
SATURDAY MAY 22
ŞAHINBEY B. S. V KARABAKH F.K. 5:0
LEGIA WARSAW V AFC TBILISI 4:0
VICENZA CALCIO V KARABAKH F.K. 4:0
ŞAHINBEY B. S. V AFC TBILISI 9:0
LEGIA WARSAW V VICENZA CALCIO 1:1
SUNDAY MAY 23
3RD PLACE GAME – VICENZA CALCIO V KARABAKH F.K. 1:0
FINAL – ŞAHINBEY B. S. V LEGIA WARSAW 3:1
EAFF Champions League 2019
The first in the history EAFF Amputee Football Champions League was held in Georgia in May 2019 and featured 6 domestic amputee football league champions from England, Ireland, Georgia, Poland, Russia and Turkey. Big support of Georgian Football Federation contributed greatly to delivering a high-profile sport event.
Tournament results:
Ortotek Gaziler, Turkey
Dinamo Altai, Russia
Legia Amp Futbol, Poland
Cork City FC, Ireland
Everton FC Amputee, England
AFC Tibilisi, Georgia
Raising club competiton to the international level was a trigger for establishing new amputee football clubs in EAFF member countries. Also, it open paths for wider cooperation with renowed football clubs across Europe.