About the project
The European Amputee Junior Camp is the EAFF's flagship project aiming at creating opportunity to play football for children with one-side amputations or limb defects. This annual project was started in 2016 when the first Junior Camp was organized in Ireland. Next camps were orgnized consecutively in Ireland, Poland, Italy. EAFF covers costs of accomadation, meals and training facilities It also provides participants with training kits and organises a closing ceremony with medals for all.
EAFF Junior Camp annual project gave a direct impulse to develop national junior programmes in such countries like Poland, England, Scotland, Italy and most recently in Georgia. Within these local projects children after amputations and with limb effects gain opportunities to play amputee football on a regular basis. At present there are around 120 children under 16 playing amputee football in Europe.
JUNIOR CAMP 2022
The European Junior Amputee Football Camp 2022, after a two-year break caused by covid, was held, thanks to the support of UEFA and Georgian Football Federation, in Tbilisi (Georgia) on 14-18 July. Participants included players aged 6-16 from Poland, England, Turkey, Belgium, Costa Rica, Germany and Georgia. The youngsters trained at the GFF football centre in Varketili and took in the sights of Tbilisi on the final day.
This is a very important project for GFF. The summer camp hosted children from seven countries, including Georgia. We have been working closely with European Amputee Football Federation for many years now. Georgia hosted the first edition of the EAFF Champions League a few years ago. Social responsibility is important for GFF. Football knows no borders, and it is vital for everyone to have the opportunity to play the game and be involved in this process. We are proud and honoured to host such events in Georgia. It is a reflection of the cooperation we have with EAFF and UEFA. We will be delighted to organise similar events in the future – Levan Kobiashvili, GFF President.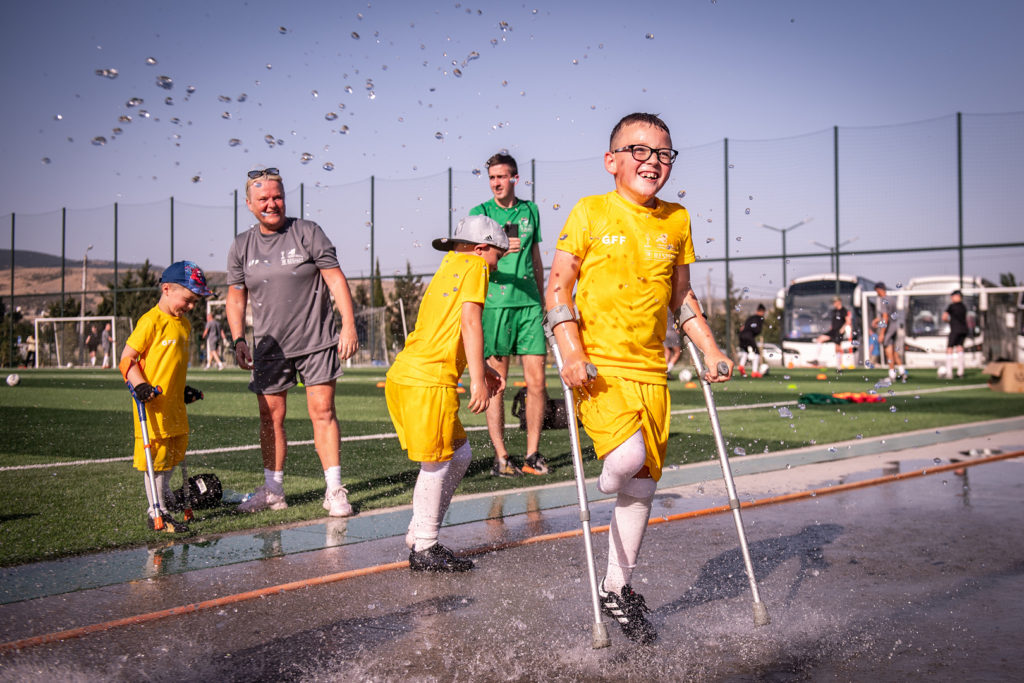 Hotels & Preference Hualing Tbilisi hosted the closing ceremony of the event. The ceremony was attended by GFF President Levan Kobiashvili and European Amputee Football Federation President Mateusz Widlak and General Secretary Ian Clarke who addressed the participating players and coaches and issued them with certificates.
I am delighted to be in Georgia again. We organised the Amputee Football Champions League in Tbilisi in 2019 with a lot of success. Now we were back with our main project – the EAFF Junior Camp, which we are holding in different countries each year. Participants include players aged 6-16 from different countries, who train together and help us develop this programme. It is great that we have been able to implement this project together with the Georgian Football Federation – Mateusz Widlak, EAFF President.
Junior amputee football camps have been organised since 2016. The first two editions were held in Ireland, while the subsequent camps were hosted by Poland, Italy and Germany, respectively. After a two-year pause that was caused by the pandemic, the event was revived and brought to Georgia.
The camp was organised to a very high standard, for which we are grateful to GFF and EAFF. They made the children very happy. These youngsters are our future. We have a talented new generation, and three players from the previous camps are already representing the Georgian national team. We also have several young players who have a bright future ahead of them. They will showcase their talent both in Georgia and abroad, as we are taking part in European and World Championships – Giorgi Khvedelidze, coach.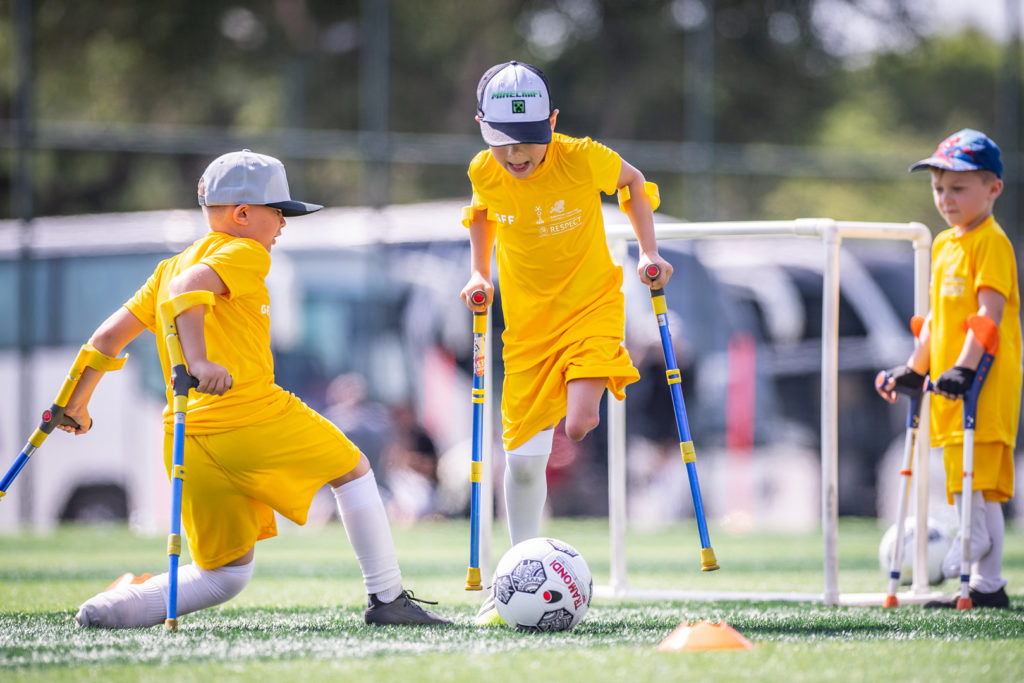 EAFF Junior Camp 2022 was organized thanks to the support of UEFA and Georgian Football Federation.
JUNIOR CAMP 2019
The Europeam Amputee Football Junior Camp 2019 was organised in Germany in cooperation with Hoffenheim TSG 1899 Football Club. The record 74 children aged 7 to 16 came to Waldorf in July 2019. Partcipants came from ten European countries: England, Greece, Ireland, Italy, the Netherlands, Georgia, Poland, Scotland, Turkey and Germany. For the first time in the camps history, EAFF invited also children from non-European countries: Salvador and Costa Rica.
Participants trained 3 days within four age groups, each led by at least four coaches. One group consists of goalkeepers meaning children with upper limb amputation or defects. Three others group formed juniors with lower limb amputation or defects divided by age. Participants had a chance to train with well-recognized amputee football players: Ray Westbrook, silver medalist of the last European Amputee Football Championship and Dato Chadunelli, goalkeeper of Georgian national amputee football team.
Over 120 kids in Europe
after amputation or with limb defects
play football!
EAFF supports national associations in creating opportunities for children and teenagers after amputations or with limb defects to play football on regular basis.
GET IN TOUCH WITH DOMESTIC ASSOCIATION>>