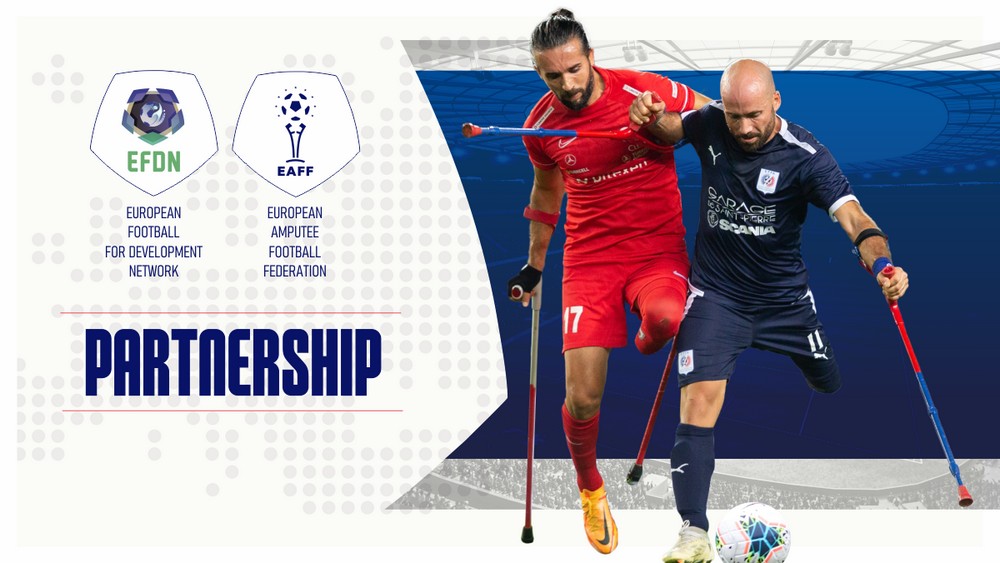 The European Amputee Football Federation (EAFF) and the European Football for Development Network join forces and launch together the Nobody Offside project, funded by Erasmus +.
Nobody Offside is a social inclusion programme for young people (aged 6-16) with physical disabilities, with a focus on amputees. Through football, the intention is to get more young amputees physical and socially active.
Awareness and training will be two of the first aspects of the project. Overall the project will give young people with such disabilities the opportunity to participate in their community and meet new people, decreasing levels of social isolation as well as improving mental and physical health.
Clubs and FA's (like Club Brugge Foundation, Fundación Real Betis Balompie, Romanian Football Federation) around Europe will deliver local programmes that not only get more young amputees and other disabilities involved in football, but that will also inspire other clubs to participate in this programme and offer young people in Europe the opportunity to play football on their own level on a regular basis.

This is a partnership programme to exchange best practices and develop a European strategy to improve the development and delivery of disability football programmes and activities. Also, two major European events will take place, a junior camp for amputee footballers, as well as a junior amputee football "Champions League" tournament.

Quality of life is a major issue amongst amputees. Not only in regards to physical health and mental health, but also in regards to a lack of social integration. It can also be seen that these factors are interlinked. With higher levels of social isolation and lower levels of mental health resulting in lower levels of physical activity.
Due to the significantly large number of people who live with a disability – the European Disability Forum states there are currently over 100 million people with disabilities in Europe – it is therefore essential to provide opportunities to be physically and socially active as European policy states that persons with disabilities have the right to participate in sport on an equal basis with others.

Physical exercise is thus key in better long-term positive outcomes for those who have undergone an amputation. Additionally, there are high levels of correlation with physical fitness levels and greater levels of ambulation amongst amputees with social integration.

Physical activity, physical and mental health levels, and social exclusion amongst amputees are intertwined. With positive impacts on one aspect benefitting the other areas. Nobody Offside can help address all of these factors at once to best address overall life quality for amputees.

Hubert Rovers, CEO of EFDN: "We are very pleased to announce our cooperation with the EAFF in the Nobody Offside project. EFDN are committed to developing programmes to include those with disabilities in football across Europe, having already established several projects with a similar end goal across different disability demographics, such as Special Champions League. Expanding to work to provide similar opportunities to amputees is therefore a natural course of action."
Mateusz Widlak, President of the EAFF: "This is an amazing moment for us in the development of EAFF and amputee football in Europe. Establishing cooperation with EFDN and a joint project with the EU is the fulfillment of our dreams, which shows that we are going in the right direction and continue to develop.
I believe that thanks to this cooperation we will acquire many new players, create new clubs and introduce amputee football to new countries."
About EFDN
The European Football for Development Network (EFDN) consists of more than 160 professional football clubs, leagues and national football associations from 32 countries that take their social responsibility and cooperate at European level to increase the quality and impact of their local projects.
EFDN inspires these professional football organisations to use the connecting power of football to make a positive contribution to society. EFDN supports its members and strengthens the impact of social welfare programmes by developing innovative social programmes, leveraging its expertise and network and providing funding opportunities.
This partnership with the EAFF is just one of many initiatives and projects of the European Football for Development Network. For more information: www.efdn.org/projects/